Hello and welcome again to Aquarium Animals. In this installment, we'll be focusing not on an animal or animal group but instead on a means and material by which we may sustain marine organisms in captivity. And that means and material is Polyvinyl Chloride, commonly known as PVC! Wow. What can't you do with PVC? In this case the application was the final pieces of hard plumbing in a make-up water treatment system for a large number of tanks. This system functions to transform raw, temperate sea water into water suitable for tropical reef inhabitants. The system involves running the water through mechanical filtration, ozone injection, further mechanical filtration, activated carbon, protein fractionation (is that a word?) and boilerization (definitely not a word.) The system had been in place for sometime and was fully functional but a number of pieces were soft plumbed or otherwise gerry-rigged. We set about replacing these components with hard-plumbed PVC. Time was somewhat of the essence as we couldn't do any water changes or topping off on our display or holding tanks until the project was completed. In preparation, we did very large water changes on all systems. The intention was to complete the project in two days but it took the better part of three. But we got it done!
I had never worked with PVC before so there was quite a steep learning curve. But I was working with a team of very experienced aquarists who brought tons of know-how to bear on the project. This is a documentation of the basics of the project and what I learned about plumbing marine systems with PVC. I look forward to my next opportunity to work with this amazing material.
What is PVC?
PVC is basically plastic pipe. It is available in a number of "Schedules" or strengths which are rated for various levels of water pressure. For this system and for most marine aquarium applications, Schedule 40 is what is used. We also used some Schedule 80 pieces, especially valves. There's nothing terribly mysterious about the various components but there are a lot of them; pipe, reducers, valves, nipples, couplers and others with connections between them being either "slip" or "threaded". Slip connections slip into each other and must be glued. Threaded connections screw into each other with the threads being wrapped in Teflon tape to prevent leakage, the arch nemesis of any plumber. We had the luxury of a vast array of component pieces available to us on site.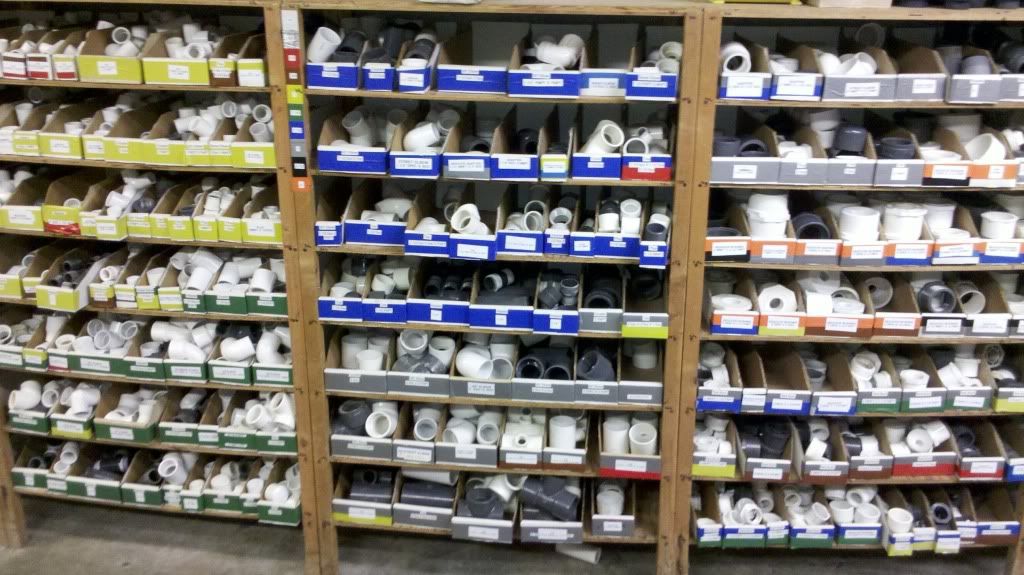 Not too many people have this many valves and fittings available on site. Keeping them organized is absolutely key.
From this stock, we selected a number of common pieces to bring to the work area. But, of course, we made about a billion trips back downstairs for more shapes and sizes.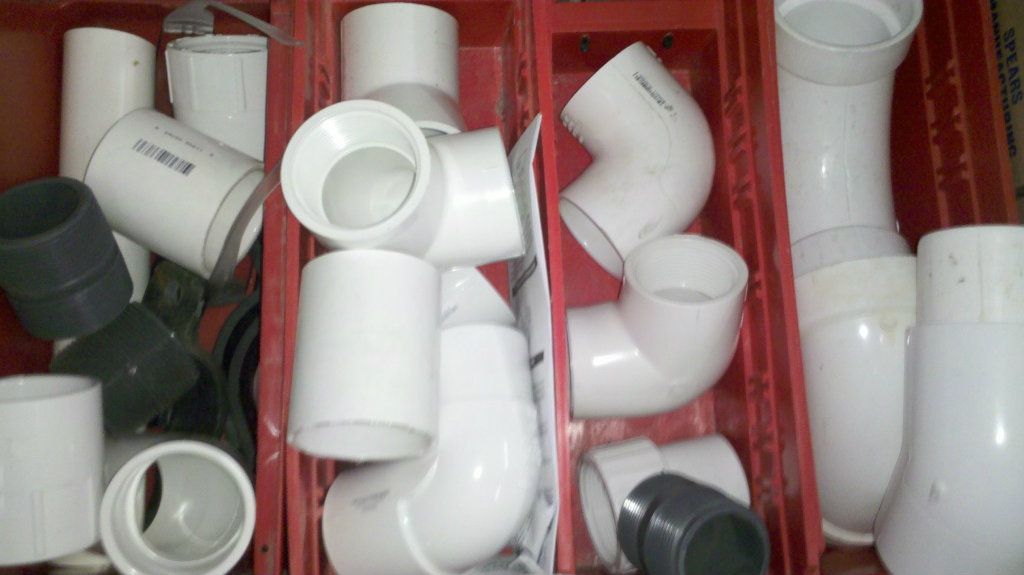 Trays of common fittings in were kept in the work area for easy access.
We also had plenty o' pipe, in this case 1 1/2" schedule 40 was used for most of the project with some 2" used here and there.
Tools
Now, let's talk about some of the basic tools used to plumb with PVC. Mostly, the tools are recognizable to any home fix-it person; mallets, channel-locks, tape measure and Teflon tape.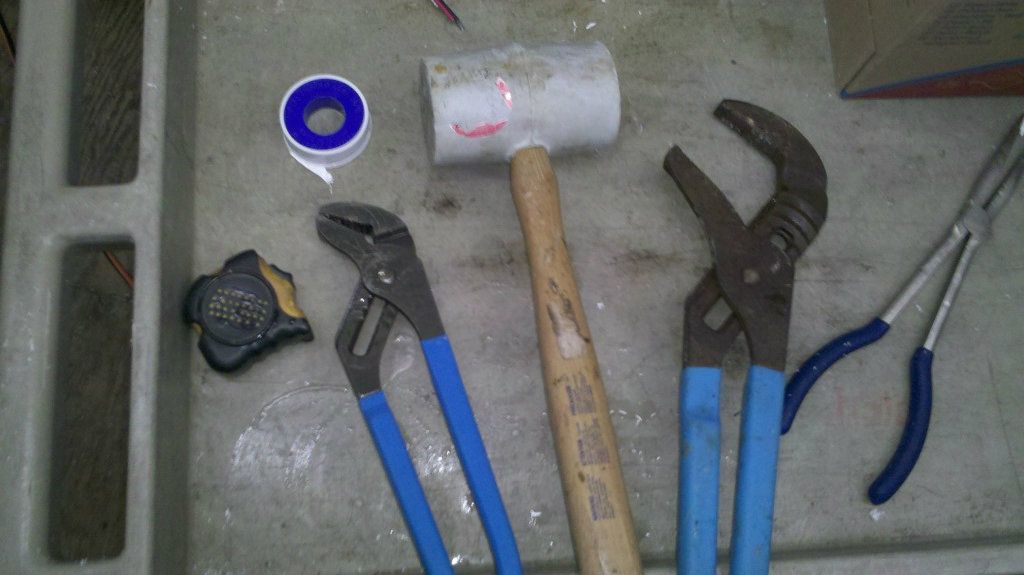 These basic tools are likely recognizable to most.
Additional tools specific to this application were also used. This battery-powered PVC cutter was extra awesome.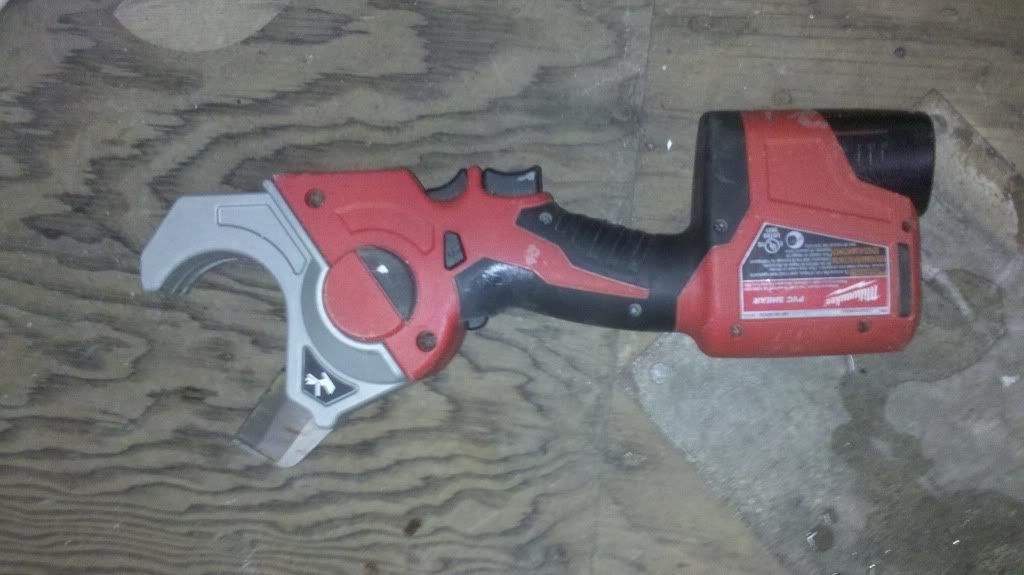 We speculated on any number of organized crime applications for this little red number.
For cutting in closer quarters, a textured cable with little handles did a fantastic job. Taking one handle in each hand and running the cable back and forth around the pipe made a nice clean cut quickly and with minimal exertion.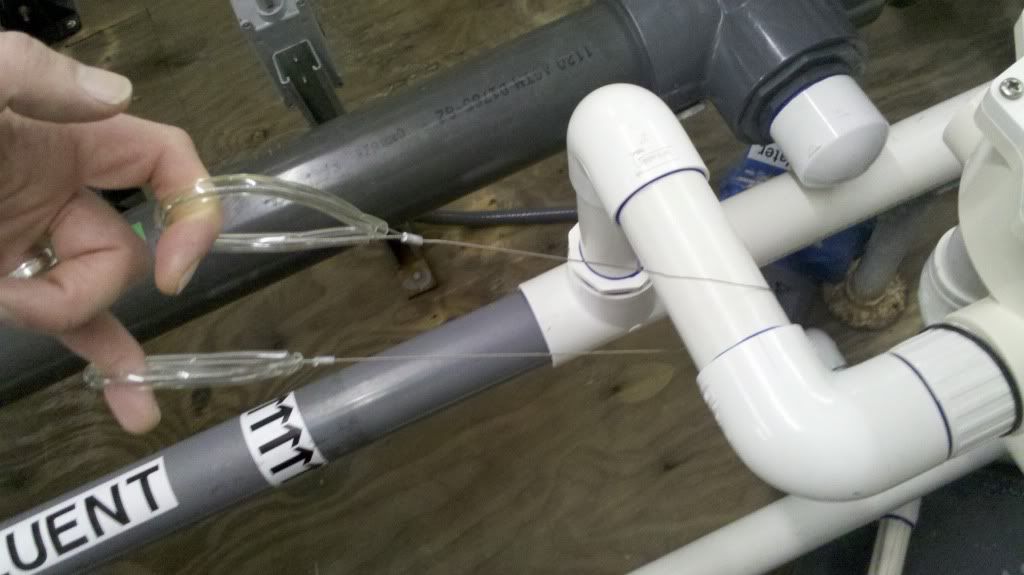 This tool is great for removing pipe from an existing system in tight spaces.
The battery powered cutter is great but if you try to use it to remove just a small amount from the end of a pipe, the pipe can easily shatter. If you need to remove 1" or less, use this special PVC hand saw instead.
It takes more effort but this hand saw is much safer for removing just a small amount from the end of a piece of pipe. Old school.
And we already mentioned Teflon tape and glue which we'll talk about more in the "plumbing" section. Now let's turn our attention to planning the project.
Planning
Like any construction project, proper planning is super important. You need to know what you want to accomplish in basic terms, i.e., connect component A to component B with a shut-off valve in between. And you should know the approximate dimensions so that you can have enough pipe and fittings on hand. For this project, we had a basic sketch of the system on the wall. It was not to scale and it was not representative of the actual layout. It simply showed the entire system in a linear format even though the final product was more like a spider web than a line. It showed the main components (Ozone injector, foam fractionator, etc.) and the order in which they were to be connected. It did not show pipe, connector or valve sizes or any specific lay-out. That was all determined during the project based primarily on the physical space itself, the routing of the pipes and, to a lesser extent, the availability of fittings. One could certainly have a fully spec'd CAD drawing with everything predetermined for a project like this. A plan such as this could help with costing the project or with conveying the aquarist's wishes to a fabrication team. In this case, the aquarists themselves were doing the plumbing and the decision was made to design on the fly as the system was being built. This design flexibility proved very sensible in this case and led to an outstanding final product. A more specific plan would have been more of a pain than a help. Most of the details were in the minds of those building the system, not on paper.
Plumbing
At any given time during the project, a team of 2-5 people were hard at work. Generally, two or three people doing the design/fabrication, one person cutting pipe and one person running 7 1/2 miles down 400 flights of stairs every 96 seconds for additional fittings. Good times.
We started by removing the funky sections we were there to replace and setting all that aside for possible future use. Then we did what any sensible person would do, we started at the beginning. As mentioned, there was no exact plan but more of a shared "intention" guiding our work. Plumbing with PVC is logical, pure and simple. But there is a creative element to laying it out that boarders on the artistic. I was proud to work with a team that was focused on creating a highly functional system that was also clean, neat and professional looking. This was not a group of Sharpie wielding Neanderthals intent on covering the earth and everything on it with blue glue. "Artisans" is the term I would use to describe them.
It's pretty much like Tinker-Toys with water flowing through them. During the fabrication process, a number of basic physical aspects of plumbing and water flow were kept squarely in mind. Distance decreases water flow. Height decreases water flow (head pressure.) Corners decrease water flow. And reductions in pipe or fitting diameter decrease flow. Not wanting to make extra work for the pump, we minimized all of these impinging elements throughout the design/fabrication process. The design part of this is the real challenge and demands the attention of experts. The fabrication part is a basically rote affair involving just a handful of techniques anyone could learn.
PVC is strong stuff and many of the runs of pipe are self-supporting. When longer runs are required, snazzy little braces like the one below may be used to support the pipe. They're a two-part affair with a channel bolted to a flat surface and then a bracket anchored therein to hold the pipe.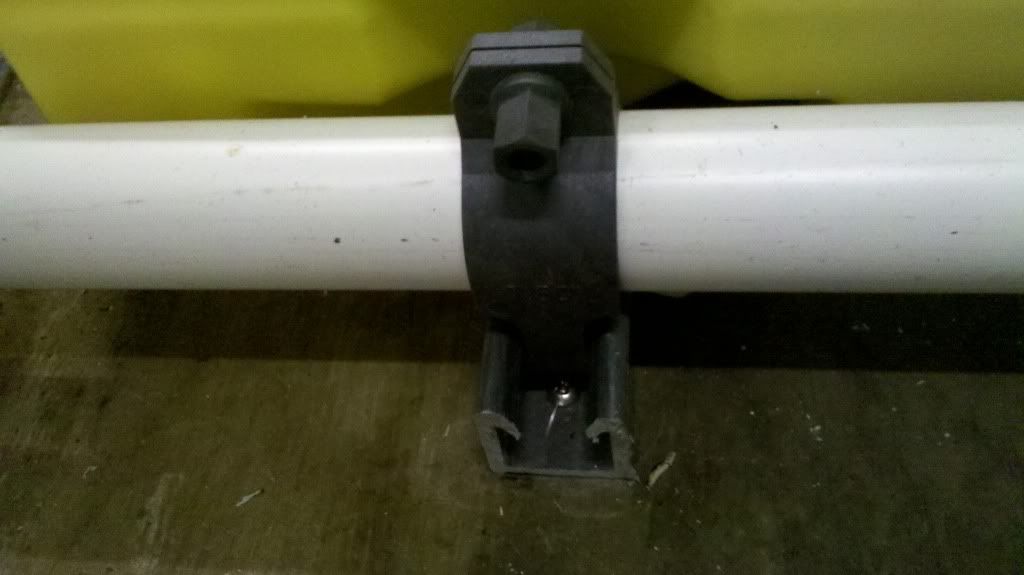 Who doesn't love brackets?
Glued Connections
Glueing the pipes and fittings together is reliably water-proof and sturdy approach. But it can't be undone. Nothing you may ever want to remove for maintenance should be glued. Instead threaded couplers should be used. But much of the system, especially elbows and valves, are easiest to assemble with glued slip connections.
First, fittings are selected and pipes are cut. Cutting can be done with a power cutter, hand-saw or cord as shown above. Here's a little video of my pal, Andy, cutting a piece of PVC with the mighty power cutters. So awesome.
Once the pipes are cut, the ends are "reamed" using this bitchin' little tool, "The Reamer." This cleans the ends of any loose bits created during cutting and also puts a little bevel around the edge. This bevel's primary function is to make it easier to get the pipes apart after the dry fitting. Even so, some aggressive malletry is often required to separate pieces.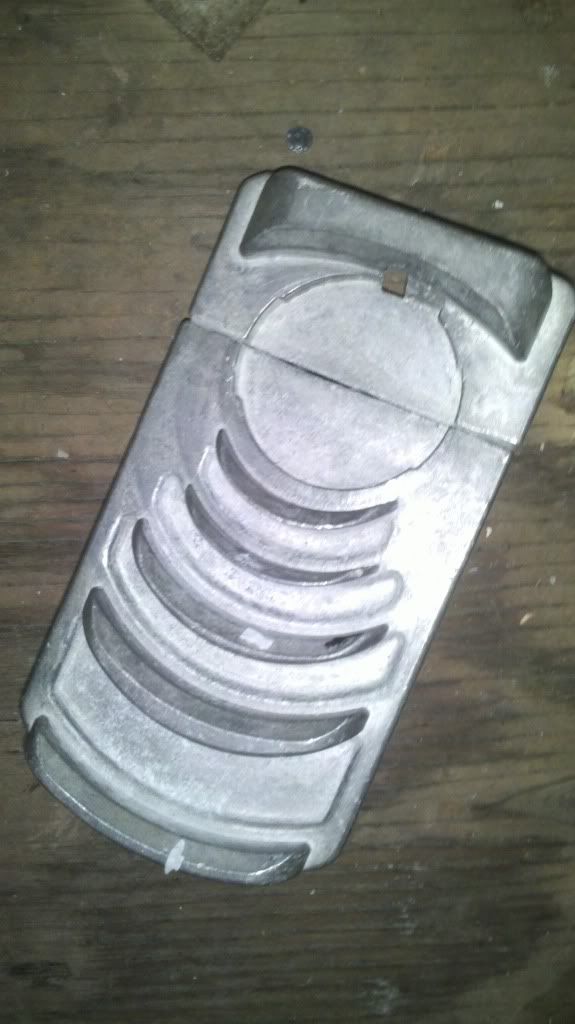 This "reamer" can put a nice clean beveled edge on a number of different pipe sizes.
Reaming a 3" section of 2" pipe. Big Sharpie marks like this are an aesthetic no-no. Use a pencil which is easy to remove from the final product. If you look closely, you can see the bevel on the top edge from reaming.
Pipes are first dry fitted (no glue!) to be sure everything fits. This is an exacting business. Once a good fit is determined, the pieces can be glued permanently into place. The glue itself is a two-part product with a primer and the glue itself. The primer cleans and "softens" the PVC to maximize the efficacy of the glue. Both primer and glue come in metal cans with application brushes attached to the lids. This stuff is pretty toxic and a high-quality respirator made for gases, not just particulates, should be worn throughout. Rubber gloves are also recommended.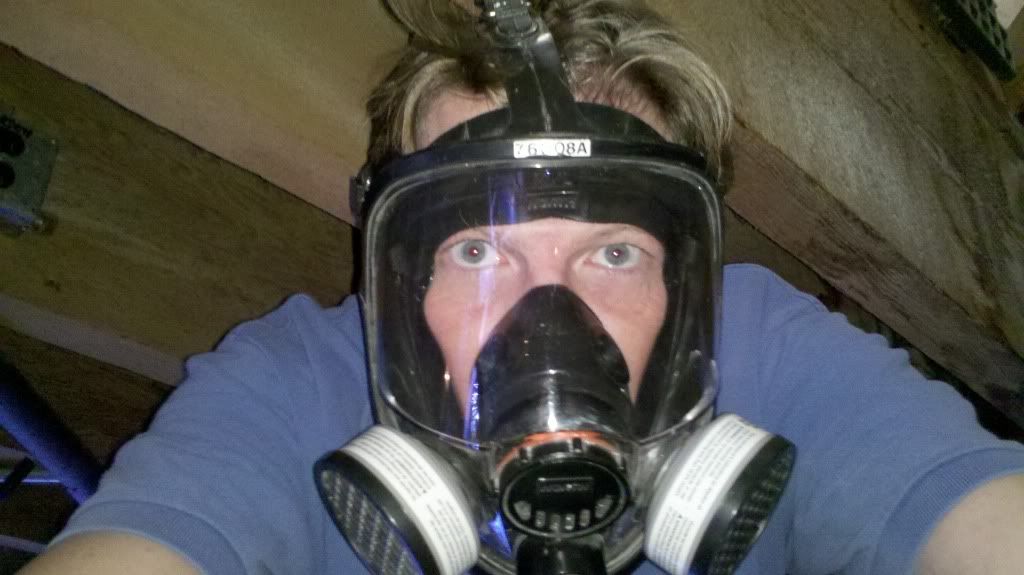 Even though I'm extremely sensitive to chemicals, this stylish respirator allowed me to work around some pretty nasty fumes for hours on end.
Once the pieces are dry fit, marks should be made to guide the gluing process. Once the glue is on, things get a bit harry and you need landmarks so everything lines up the way it did during the dry fitting.
Little marks like these are essential for getting everything to line up and fit during the gluing process. Remember, use pencil which is easy to remove.
Here's a little video of my buddy, Chris, gluing a piece of pipe. As you can see, it all happens pretty quick. 37 seconds to be exact. First, the primer is applied to both surfaces, followed immediately by the glue itself. Then the pieces are fit together and oriented with any excess glue being quickly wiped off. Chris did not wear a respirator and reported only one herd of pink elephants so not too bad.
The glue we used was clear and is quick-set for medium-strength applications. The blue glue you sometimes see is for wet applications, is also quick set and requires no primer. Its blue messiness is not required for dry pipe like we were using. Finally, there is a grey variety used for high-pressure applications and requiring at least 24 hours of curing time.
Threaded Connections
Another way of connecting PVC, is using threaded couplers (including valves) called "unions" wrapped in Teflon tape. This wrapping has to be done in a certain way so the tape doesn't get all fouled up when the piece is screwed in. Hold the threaded fitting in your left had and wrap the tape over and away from you. Start at the edge furthest in and do more wraps there to achieve a slight taper, becoming narrower toward the leading edge. End your wrap with a couple times around the leading edge and smooth any little strands into the threads. Also, the tape role's orientation will affect your ability to keep tension on the tape. This is exactly how it should look when you're doing it right.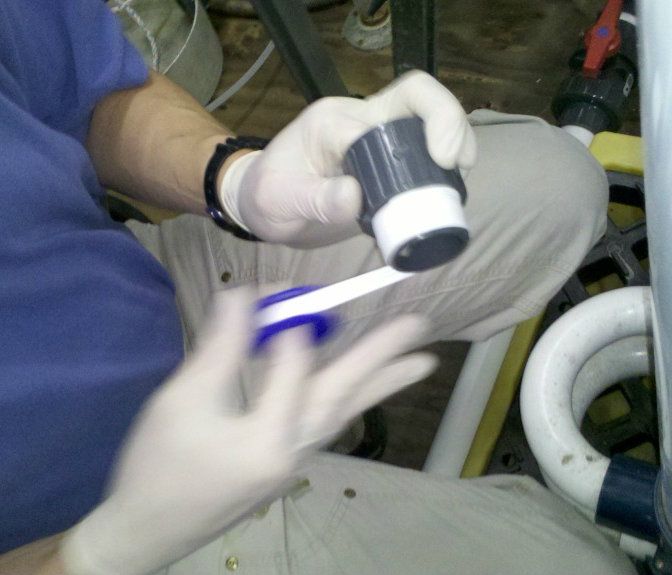 Wrapping the threads is straightforward but it has to be done a certain way to function properly.
After the threads are wrapped, the pieces may be screwed together. Often, hand-tight is sufficient. Sometimes, the added torque of channel-locks may be desirable. Be careful not to damage your pipe with the wrench.
Finishing Touches
Once everything is put in place and tested, it's time to clean everything and label it. Obviously, the work area needs to be stracked away. The system itself should be cleaned of all printed factory labeling using an appropriate solvent. All pencil marks and other fabrication marks should be removed. And everything should be clearly labeled with its function and direction of flow to facilitate any future repairs or maintenance.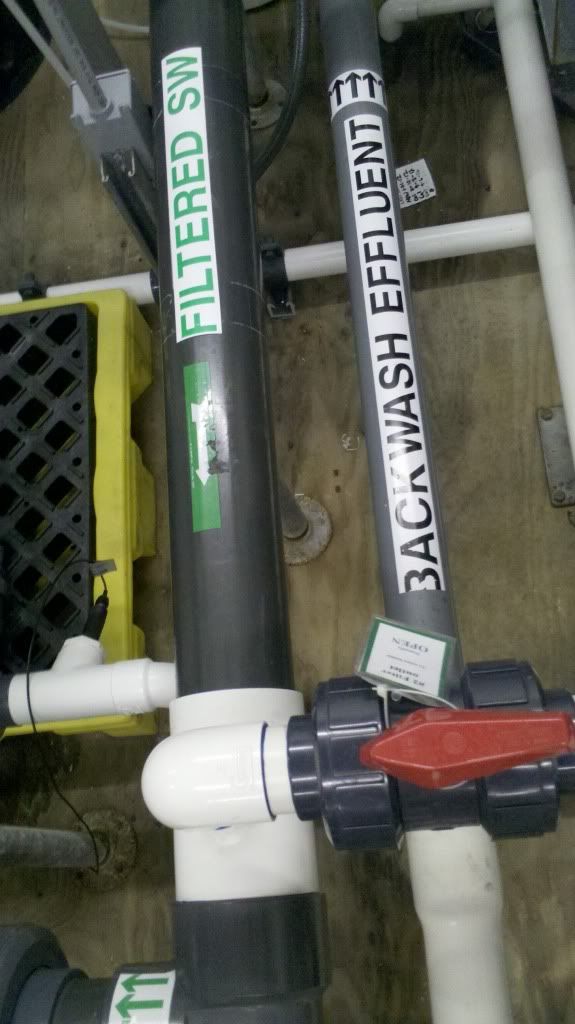 Cleanly built and clearly labeled is the way a professional job looks when completed.
This was a fantastic learning experience for me and I'm thankful for the opportunity. May you all live long and prosper. And may your plumbing never leak.
Cheers, Paul